The iCloudConnect Contact Center (iCC) solution is an evolution of traditional call center functionalities and tools. Now, your business can provide exceptional customer experiences simply by offering the digital communication options that are rapidly growing in use and favor: Live chat, SMS (text), email and social media.
The Many Benefits of Using Contact Center
While it's difficult to argue a more profound benefit than providing rich and pleasing experiences to your customers, Contact Center also delivers incredibly valuable operational and revenue benefits:
How to Identify a Business Who Can Benefit from Using Contact Center
Contact Center is ideal for virtually any organization dedicated to meeting increasingly high customer expectations and enhancing customer engagement. Regardless of industry or business size, Contact Center is valuable for improving customer engagement at any stage of the customer relationship or buying process.
Some of the areas where businesses see the most immediate and/or significant benefits from implementing Contact Center functionalities are:
Some of the most common business challenges Contact Center addresses and resolves are: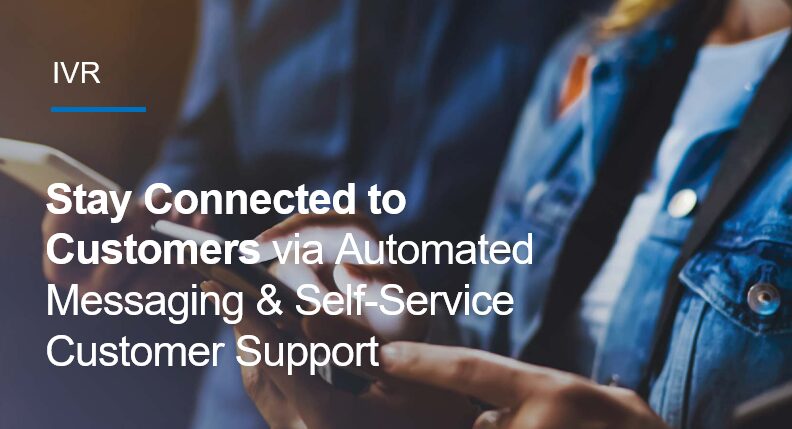 iCloudConnect Contact Center: A Better Way to Engage
Contact Center empowers employees and managers with detailed customer data in a single, easy-to-use interface. Seamless CRM and database integration provides vital customer data at a glance. Contact Center's Workforce Management and administrative tools reduce duplicate requests for data, automate routine and time-consuming tasks, and ensure adequate levels of staffing. The result is increased productivity, happier employees, and ultimately, a more positive work environment.
Interactive Voice Response Systems:
What is Interactive Voice Response & How Does it Work?
IVR software offers inbound and outbound capabilities that automate a business' customer engagement tasks and enable self-service capabilities for customers. The result is increased business efficiencies and better customer experiences.
With inbound IVR systems, callers can use their touch-tone phone to interact with a business's database on demand all without ever initiating an agent interaction. This self-service application reduces the number of basic but time consuming calls for the business' staff and improves the outcomes of customer interactions.
Outbound IVR systems are mass messaging automation platforms for voice, SMS and email. Used in traditional contact centers or for any business that requires customers interactions, outbound IVR software sends pre-recorded, automated messages to selected groups of customers, eliminating the need for individual calls.
Inbound and outbound IVR systems offer compelling benefits to businesses across all industries and verticals.
IVR software reduces a businesses' workload, whether using it in a traditional contact center setting or using it to streamline and automate customer interactions outside of a typical call center environment. IVR reduces the operational expenses associated with bringing on new employees to handle customer needs and interactions while also increasing your customers' overall productivity and bottom line.
Eliminating redundant, mundane or low-need customer touchpoints free up employees or contact center agents to focus on customer interactions that require direct or personal communication. Priority focus can be reserved for customer interactions that benefit from working with a human, leading to reduced call times and higher rates of First Contact Resolutions.
Many customer needs can be satisfied without human interaction. Inbound IVR software empowers customers with self-service options for everything from paying bills to getting store hours. Outbound IVR automates communications so customers don't miss critical info. Positive customer experiences and resolutions are proven to increase customer satisfaction, loyalty, & retention, valuable outcomes you can offer business customers with IVR.
Using IVR solutions to provide exceptional customer experiences can yield significant upticks in customer loyalty, repeat purchases, and a customer's overall lifetime value. But IVR is also an ideal way for businesses to automate communications about promotions, specials, events, new products, and other revenue-driven business activities, giving your business customers a new, low-cost way to drive sales and build brand recognition.
Our versatile IVR systems are built to provide organizations with access to cloud-based applications that can integrate with any phone system and database to offer real-time interaction for simple or complex customer service inquiries.
IVR systems use SIP trunking solutions to connect from the cloud to any PBX/PSTN connection that supports SIP trunking allowing it to be deployed as a standalone offering, integrated into the iCloudConnect platform, or over-the-top any third-party PBX system.
IVR systems allow callers to navigate through a call flow (application) using their phone. The system will speak back account information from the database and offer additional options including zeroing out to an agent if the need requires human interaction.
IVR technology can integrate into any database platform that supports industry-standard web services style API (Application Programming Interface), HTTP(S) GET/PUT, SOAP/XML (WSDL), or REST API.
IVR systems offer inbound and outbound tools that increase efficiency and improve customer experiences, making IVR a great fit for any business or workgroup that regularly addresses customer inquiries.